Are you working with tea professionally or thinking about entering the tea industry? Is Japanese tea something you would like to learn more about? Then we have something just for you – a two-week Japanese Tea Master Course.
The aim of the tea course is to allow you to develop a full understanding of Japanese tea, as a result of which you will become more knowledgeable about the product and better equipped to guide your own customers.
The Japanese Tea Master Course covers a broad range of topics: from tea cultivation and production; to history, culture and consumption; and provides a unique opportunity to gain hands-on experience with Japanese tea. The program is delivered by Japanese tea experts, able to relay the deep going information and cultural background in an understandable and easy to follow manner. Moreover, the tea course is held in Wazuka, Kyoto, that has over 800 years of Japanese tea cultivation history and is one of the main producer of the famous brand – Ujicha.
Therefore, participation in this tea course will give you access to valuable insider's information, otherwise inaccessible experiences, and course material that will be useful for the rest of your career.
*The course is supported by Kyoto Obubu Tea Farms.
Course Content
Day 1 – Introduction, Current situation, Professional tea evaluation, Chakabuki
Day 2 – Japanese tea industry, Cultivation & processing, Tea ceremonies, Gyokuro tasting & evaluation
Day 3 – Japanese tea business, Organic tea, Teaware, Tamaryokucha tasting & evaluation
Day 4 – Machine harvesting exercise on a tea farm; Tea processing by pan-firing exercise
Day 5 – Visit to a matcha factory; Sado ceremony demonstration & practice
Day 6 & 7 – Free time to explore Kyoto, Nara, Osaka or farther Japan
Day 8 – Tea export, Tea components, Hojicha tasting & evaluation, Wakoucha tasting & evaluation
Day 9 – Tea business case study, Water, Rare tea tasting & evaluation, cooking with Japanese tea
Day 10 – Tea hand-picking exercise on a tea farm; Traditional tea hand-rolling exercise
Day 11 – Visit to a tea research centre and a tea auction, visit to a chasen producing area
Day 12 – Pottery area visit, Senchado ceremony, Course closing
*Content may be revised
Course Dates
In 2023 the course will be held twice:
Summer Course: 19th-30th June, 2023 (registration has closed)
Autumn Course: 9th-20th October, 2023 (registration has closed)
Dates for 2024 will be announced by the end of 2023.
Course Instructors
Tomoyuki Nishimura (Senmu)

Senmu is the owner of one of the biggest Matcha processing factories in the region and a seasoned tea professional. During the course he will teach about Matcha production.

Kenta Hosoi

Kenta is the leader of Wazuka Tea Hand-Rolling Preservation Association and the president of his family tea farm. During the course he will teach about the traditional Japanese tea making.

Kaoru Nakai (Nakai Sensei)

Nakai Sensei is a certified instructor of Urasenke tea ceremony, Furyuu Sencha ceremony and Chikusenryu flower arrangement. In the course she will lead tea culture and ceremony activities.

Simona Suzuki

Simona is the president of the Global Japanese Tea Association and the licensed Urasenke tea ceremony instructor. During the course, she will lead Japanese tea tasing & evaluation classes.

Yasuharu Matsumoto (Matsu)

Matsu is the co-executive officer of the Global Japanese Tea Association and Vice president of Obubu Tea. In the course, he will deliver classes about Japanese tea industry and tea science.

Akihiro Kita (Akky)

Akky is the president of Obubu Tea, and a certified Japanese tea instructor, who has over 20 years of tea farming experience. During the course, he will lead tea cultivation classes and exercises.
Many more knowledgeable and experienced tea instructors will teach other subjects during the course.
Graduate Voices
Julie – tea consultant in Singapore, 2019 autumn course

"Very well organized and truly truly amazing.
・In depth knowledge & experience
・Sincere & friendly tea
・Opportunities for student bonding – good for networking & building friendships"

Susanne – the founder of Horenso Consulting in Germany, 2019 autumn course

"Everything was important and useful! Many details about all parts a foreigner would not know. Logical and well prepared."

Christopher – a team member of Tea Master in the USA, 2019 summer course

"Truly excellent and thorough exploration of Japanese tea. It was even more in depth and comprehensive than I expected. Now I know how much I don't know about tea:)"

Simone – the owner of More Tea in Australia, 2018 summer course

"The course covered a wide variety of subjects presented in a warm and inviting manner. Altogether brilliant, fun, informative and hands-on. Cemented all I have learned through online study and reading."

Kori – the founder of Piano Black Trade Co. in the USA, 2018 summer course

"Absolutely fantastic! Very good mix of hands-on experiences and classroom theory. Really appreciated the diversity of class content and showing the whole regional Wazuka / Kyoto tea industry."
Group Size
To ensure personable learning and attentive delivery of the course is limited to 12 people.
Course Language
The course is delivered in English with translation from Japanese where necessary.
About the Accommodation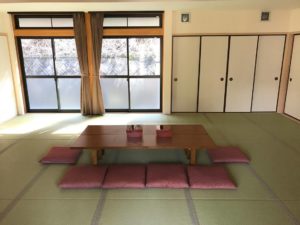 During the course the accommodation is provided in a beautiful traditional Japanese guesthouse. The spacious rooms are built in a traditional Japanese style with tatami floor and futon bedding. Towels and amenities are also provided. Rooms will be shared between 2-4 course participants of the same gender. 3 showers, 6 toilets (3 for women and 3 for men) and 3 washroom sinks are also shared between all course participants.
Course Cost
The cost of the course program is 235,000yen. The accommodation and catering will additionally cost 120,000yen.
*10,000yen discount for Tea Fellows / Tea Catalysts on a yearly membership plan.
What is included:
Course classes and workshops delivered by Japanese tea experts

Summer Course: 19th-23rd Jun & 26th-30th Jun
Autumn Course: 9th-13th Oct & 16th-20th Oct

Course handouts
Course certificate upon successful course completion (full attendance of the course required)
Accommodation in a beautiful traditional Japanese guesthouse during the course dates (you will be able to store your luggage at the guest house during the weekend)

Summer Course: 18th-24th Jun & 25th Jun-1st Jul (24th Jun is not included and you are encouraged to explore nearby cities of Kyoto, Nara, Osaka)
Autumn Course: 8th-14th Oct & 15th-21st Oct (14th Oct is not included and you are encouraged to explore nearby cities of Kyoto, Nara, Osaka)

Catering: breakfast, lunch and dinner (regarding allergies please consult us during the application. Please note, that Wazuka being a small town, we may not be able to accommodate all requests)
Transport during the course (to and from the course activity locations)
What is not included:
Flight tickets to and from Japan
Travel to Wazuka before the start of the course and from Wazuka after the end of the course
Weekend accommodation (over the weekend we encourage you to explore close by cities: Kyoto, Osaka, Nara)

Summer Course: 24th Jun
Autumn Course: 14th Oct

Travel insurance (please choose an insurance that does not exclude the cover for farming activities and manual labour)
Personal expenses
Requirements
Requirement Japanese Tea Intermediate Course certificate. Priority will be given to Tea Catalysts and Tea Fellows.
Application Deadlines
Summer Course: 28th February
Autumn Course: 15th May
Applicants will be informed after the application deadline.
Cancelation Policy
More than 2 calendar months prior to the course start date: full refund (excluding transaction fees)
2 calendar months prior to the course start date: 50% refund
1 calendar month prior to the course start date: no refund
Application Form
If you have any questions please contact us at info@gjtea.org
We are looking forward to meeting you soon!